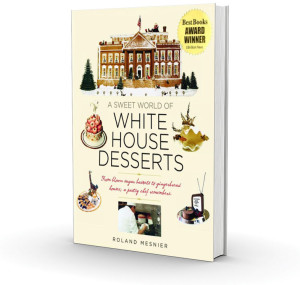 His fourth book, A Sweet World of White House Desserts: From Blown Sugar Baskets to Gingerbread Houses, A Pastry Chef Remembers. Chef Roland worked tirelessly with the White House Historical Association to bring this book to life.
Many of the photos come directly from his personal collection and all of the memories are from his heart. All proceeds from A Sweet World go back to the White House Historical Association. This book may be purchased directly from the White House Historical Association.
Contact Vice President of Publications, Marcia Anderson at 202-737-8292 or email: [email protected]. More than 300 spectacular recipes and lessons from Chef Roland Mesnier. This beautifully illustrated volume offers readers a fascinating course in making the full spectrum of sweet treats– from breakfast pastries, cookies and pies, to fresh fruit desserts, frozen confections and cakes – this book will encourage bakers of all levels.